Is it real? Are we actually seeing the light at the end of the tunnel for this whole situation? I don't want to let myself believe it. And yet, I booked a trip, to be happening in less than a month…Safe, within Europe. I will have to take a couple of PCRs tests… but, as a friend put it bluntly, my nose isn't really a virgin anymore. And, I really am in desperation to get the hell out of here.
I don't want to disclose the destiny, because I have become quite superstitious and I'm afraid that will jinx it. But, now that I'm encouraged enough to start planning this trip properly, I thought I would share some of the stuff I do to research any destiny, helping put my itinerary together and, most of all, seek inspiration. I'm sure a lot of you may be daring to plan some travelling for the Summer, with more destinations opening, especially to those who lucky enough to have had the vaccine already, so perhaps some of these steps I take are going to be the same you're taking right now.
Disclaimer: In this list, I purposely left out practical things such as safety, accommodation, building itinerary or transportation. I may write a separate post about it.
So, this is the scenario. I decided where to go. I have my plane tickets. But what to do in….?
Start broadly.
I go to my friend Google and type "what do do in…" and of course you'll see that the first organic results will be coming from websites such as TripAdvisor, CultureTrip, LonelyPlanet or some of the bigger blogs out there. And I go to all of them. I take notes in my notepad first of the things I find interesting. These could be monuments, museums, restaurants, parks, etc. I take notes and, most importantly, I save the most interesting articles in my bookmarks folders. Then, I pin the places in Google Maps.
2. Which Museums? Or any at all?
Almost in every city, there is a museum of something. If you're interested in Museums, make sure the ones you found in the first step are actually of interest to you. Visit their websites and read people's reviews on TripAdvisor. Use your time and money wisely. Museums typically require both. Sometimes, I just keep the museums in mind in case I have some unexpected extra time.
3. Planning my photography journey
Not a big surprise here, but I do love to take photographs. And I want to be able to go to the places that have the best views, the most interesting architecture, etc. Because I'm also a sucker for aesthetics, Instagram and Pinterest are the best source of inspirations. I save pins and posts from these platforms to make sure I remember stopping by. Often, especially using the location tag on Instagram, you'll find the best places to eat or to relax based on what locals are doing and posting. Perhaps some off the beaten path attractions as well.
4. And well… I just mentioned food…
It is a part of visiting a different country or city to try their food. TripAdvisor is a great help here, but again I do take notes from Google's best results – searching for "typical or traditional dishes from…" . If you have any food allergies or specific diets, it's also important to research beforehand for restaurants that will serve food that you can actually eat. Also, knowing which restaurants locals go-to is a great way of not being ripped off and making sure you're experiencing the original thing. I always make a list of restaurants with me.
5. But FIRST… coffee
Right. I am a true caffeine addict. So I will also try to search for the best places where you can get good coffee and, potentially, even relax for a while, reading a book, or going through the pictures I've been taking. If I'm solo, it's important for me to stop in these places to observe the life around me.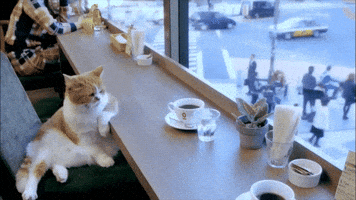 6. Find free walking tours
I am a huge HUGE fan of walking tours. And the best thing about the "free" ones is that these are made by volunteers, usually, locals, who really like their city, have grown up there or lived there for most of their life, and will tell you not only the history but the fun facts and legends, taking you to the off the beaten corners of the city as well. In the end, you decide what to pay for the tour. You can walk away and don't pay them anything, but I have not seen anyone doing that. These tours are truly fantastic, I've lost count of how many I've been to. These people deserve to be paid for the time and enthusiasm they dedicate to us. So, once again, search for "free walking tours in…".
7. Learn a bit about the history of the country.
I'm not saying to go to a library and get 10 books on the history of the country or city you're visiting. But I think in order to understand a place, you need to understand at least a bit of their history. I always visit the Tourism Official websites for bite-sized history lessons. If I'm definitely spending more than a week in a country, I'll probably get a book from Lonely Planet about the city. It's a great way to keep yourself busy on the flight there if you don't manage to read it beforehand.
8. Learn a few basic words in the language of the country you're visiting.
Learning how to say "Hello", "Thank you" or "I'm sorry" (in case you go against somebody on the street because you're too distracted) shouldn't be that difficult. And of course, you may have other words in your pocket. For me, the word coffee in any language is essential.
That's all for today! How do you research your destination? I'd love to know your thoughts.
Love, Nic