I've spoken a few times about solo travelling in this blog. Most of my travelling is (or used to be) solo.
At the start, the main reason was that I couldn't stand waiting around for others to decide to come with me. I felt I was being held back. But then I realised how much I love to travel by myself. It is amazing to be able to do whatever I want, at the time I want without having to be worried about others. So, if you're out there looking for a little push, or simply considering going back to travel straight after we're allowed to, and don't want to wait around, perhaps my perspective will help.
(Around International Women's Day, I posted an article with some tips on solo travelling as a woman that you may find interesting as well)
1 . You don't need to wait around.
Grab that deal before it expires. Schedule your days off before you lose them.
As I said before, this was the main reason I started to go solo. It all started during my Erasmus period in Spain. One of my goals was to travel through the country and, even though some of my friends were also studying with me in Madrid, they didn't seem as excited with the idea of going on organised student trips to get to know the rest of Spain (which were by the way, incredibly cheap). At the time, I was much younger (and broke) and I had never been to a trip alone. But this was the moment I decided to go. I didn't want to miss the chance just because my friends didn't feel like joining, especially after spending months saving for it. From that moment, I never waited around anymore.
The harsh truth is that people won't have the same priorities and, as we get older, the same availability.
Don't wait to have someone that will be willing to go with you. Please. If travelling is so important to you as it is to me, it would be a shame for you to be delaying your dreams.
P.S. I wrote an article about the 3 essential lessons I learned in Erasmus.
2. The freedom to be selfish
I just love being able to do what I want. Changing plans if needed. Waking up at 5am or at 10am. Going for a 14km hike if I want to. Or spend a couple hours in a cafe just reading and observing the atmosphere around. Eating what I want, at the time I want.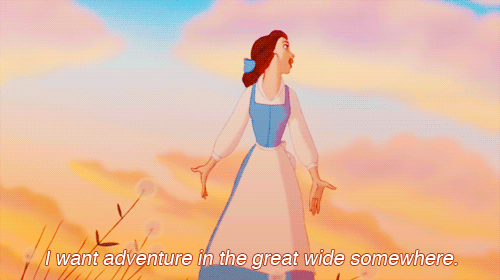 Being alone gives me the chance to explore a new place the way I want without having to concede to others or to worry if their legs are sore. I know this may sound selfish. Don't take me wrong. I do like to go on trips with friends. But let's face it, unless you really have a lot in common in terms of interests and routine, it may not workout so well. And, at the end of the trip, you spent money and days off and couldn't enjoy it the way you wanted.
3. Just being myself by myself
I'm very independent and I adore my alone time. As an introvert, I often suffer from social anxiety, and I thrive the most when I'm by myself. It takes a long time for me to make friends. When I do, I thoroughly enjoy their company. But still, I need to be alone. Sometimes, I really just want to be quiet. I don't feel like speaking much. Just reflecting. Just observing. And this bothers others, especially if you're spending days in a row together travelling. I would be asked if I'm okay, if I'm tired, if there's something wrong. And there isn't. At all. But people get uncomfortable with long silences so I have to force myself to be cheerful and talkative all the time, which can be exhausting just for itself.
What I travel alone, I don't have to live up to others' expectations. Do not expect me to be the cheery, energetic version of myself all time time. That won't happen, friends.
4. More likely to speak with strangers and fellow travellers with interesting stories
I'm an introvert. But when I travel alone is more likely that locals will open up to me, at restaurantes, shops, tour groups. As I mentioned on the 1st point, because I joined groups of other Erasmus students alone (without my friends) I got to make more friends, from other nationalities and cultural backgrounds. All of that can make any experience a lot more richer. Especially as you find people who have the same interests, the same priorities. It actually makes you feel less alone.
5. You only need to worry about your own finances
It may happen that you are in a different level financially comparing with your friends. I felt this in two different ways – when I really had no money, and when I was the one with the heavier wallet. When I was still a student, I was living out of my small savings, and the monthly allowance provided by my parents for basic needs. It did not include travelling (or partying) when I was in Erasmus. But, other students I got to know and travel with, came from different backgrounds and had a lot more buying power. So it often felt really odd when I had to say I wasn't that hungry because they chose expensive restaurants or bars to dine in…
Thankfully, I'm now at a level I can splurge a little. I can afford to stay somewhere nicer, to go to eat at certain places, perhaps enjoy a nice show, with a more premium price. Of course if I'm alone, I don't need to consider anyone else. I just do it. But it can be awkward if you're with friends who are truly on a budget. I could go anyway of course, but that would make me feel really bad, especially if it's something they'd like to experience as well.
6. Knowing thyself by challenging thyself
I've learned a lot by travelling alone, but the most I've learned was about myself. I learned I could endure more than I ever thought. I found new passions. I've grown so much as a human being. There is something about being on your own in a strange place that will help you see things more clearly. No, your problems won't go away. Or your self-doubt. But you'll see it in a completely different perspective. And, almost without realising it, you're developing your own tools to help you deal with challenges in life.
Even most exciting of all, I'm still a young traveller (or at least I like to think I am) and there is so much more to learn!
7. It boosts your confidence
The better you know yourself, the more confident you'll be. Because you're alone, it's all on you. The planning, the research. The getting out of difficult situations, often overcoming language barriers, understanding a seemingly incomprehensible bus or train schedule. You may get lost in the wrong side of the city. Or you may be confronting a sketchy situation. It is good to have someone on your side you can rely on. But you're all alone and you'll learn to rely on yourself. To listen and trust your instincts. You'll find that you're more than enough. And you can always overcome more than you thought you would.
Growing up, I was often told, whether directly or subjectively, that I couldn't do things. I was physically weak. I had health issues. I was a girl, a woman. An introvert. I was this or that. It wasn't something meant to harm me, but later I realised it had. My unconscious self actually believed all of those things. My first solo trips broke those chains that others had put in my wrists and ankles for so long.
I'm sure I could think about so many other reasons I love travelling by myself, but these seven pretty much summarise my feelings so far when it comes to solo travelling.
What about you? Do you enjoy solo travelling? Is there anything stopping from doing it?
Love, Nic
If you enjoy my content, join me on Instagram!
Related content down below.